12 Superfoods For Baby Weight Gain (10 Months+ Babies)
If you have started solid food for your baby and are looking to boost baby's weight, we bring to you 12 super foods to add to nutrition and promote a healthy weight gain. Tried and tested at our home for our little one, these foods will bring taste and joy to the baby. This article is for all parents who need a quick guide to plan their baby's meals.
► ये आर्टिकल इंग्लिश में है, हिंदी में जानकारी के लिए "Read More" पे क्लिक करें और आर्टिकल के अंत में दिए गए हिंदी वीडियो को देखें. वीडियो में ये जानकारी हिंदी में दी गयी है....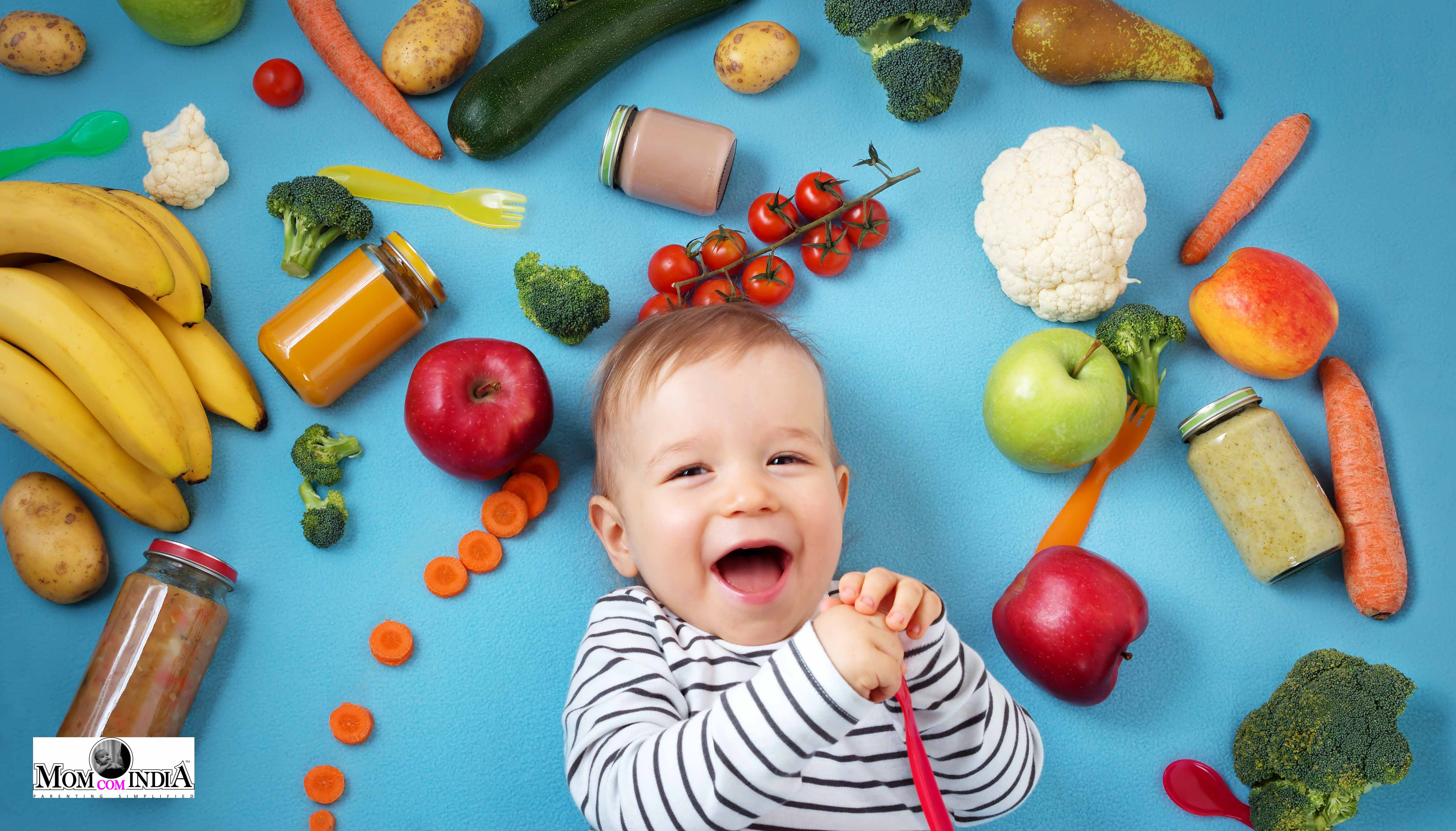 A whole new world of nutrition unravels when a baby crosses the six months mark, to start on solids. Parents start to search for easily digestible yet tasty food. I get a lot of queries on how to best feed a baby, to promote healthy weight gain. A bonny , well fed baby is the goal. I too had the same desire for my little one. After research, advice and testing it in our kitchen, here are 12 super foods that dramatically help in providing nutrition and weight gain to a baby.
1. Breast Milk or Formula Milk
Exclusive breast feed is advised for a child below six months. Due to circumstances should you need to supplement it, formula milk is the best option. However, even after six months, the majority of the baby's nutrition still comes from these two sources. You can chose to have a mix of breast feed, formula feed and solids. The nutrition of breast milk is unparalleled and will help your baby be stronger and happier.
2. Home Made Curd
Full fat curd is a great source of probiotic benefits. For my baby, I preferred to set the curd at home with full fat milk. The store bought curd is a less preferred option. Curd can be mixed with any of the solid meals like Khichdi or a few tbsps. of curd can just be given to the baby as a snack.
3. Ghee
Ghee is hailed as a superfood. And it definitely helps your baby to get a nutritious weight gain. I preferred to make ghee at home for my little one. A little ghee in at-least one meal, is beneficial for the baby.
4. Banana
This is a favourite of most babies. The natural sweetness of a banana and it's easy digestible quality, makes it an easy choice for parents as well. In fact parents choose to give mashed bananas on a daily basis. The only exception is- should your baby suffer from a cold, banana should be avoided.
5. Ragi/Nachni/Finger Millet
It is slightly tricky to feed this to a baby. Some babies just don't appreciate the taste of it. However this is a gem for its nutritional benefits. Should your baby take to it, this is a perfect breakfast option.
6. Sweet Potatoes
Another favourite for babies, sweet potatoes can be boiled and added to any food. It can also act as a taste corrector for any bland food that your baby might refuse. Add it to your vegetable purée for that hint of natural sweetness. Pumpkin and sweet potato soup with a dash of ghee, will make the baby slurp up the meal with glee.
7. Avocado
Brain food and packed with healthy fats, mashed ripe avocado is a wonderful addition to your babies diet. Again it's versatile and can be added to any meals or can be fed as a purée.
8. Pulses/Daal
Daal is rich source of protein. For a baby, this provides the building blocks for growth. Start with the easily digestible moong dal. Only after the first eight months, you may choose to try other daals. Another point to remember ,is to soak the dal for a few hours before cooking. This breaks the complex carbohydrates in it and makes it easier to digest. Daal- Palak, khichdi are popular baby food options. Do add a tiny pinch of heeng and haldi to your Daal for added antiseptic benefits.
9. Potato
The carbohydrates in potatoes are an important source of energy. It supports the growth spurts in your baby. Mashed potatoes with ghee is a yummy meal for your baby. You may also choose to add potatoes to vegetable soups and khichdi.
10. Almonds
Nuts contain healthy fats and micro nutrients. However do not give whole nuts to your baby. This can cause choking. Instead make a fine powder of soaked and de skinned almonds. Add it to any solid meal for your baby. Kheer with almond powder is wonderful for a baby. (Do note that one shouldn't introduce cow milk to baby less that's less than 12 months of age. )
11. Mangoes
Summer time is for the yummy mango. Babies love it ,as much as us. Do soak the mangoes in drinking water for at-least 4 hours. Peel and purée. For a baby that's teething, chilled mango purée is a happy meal.
12. Eggs
Eggs are wonderful balance of proteins and fats. One egg a day is a wonderful option to make your baby gain weight. However, egg yolks can only be introduced to your baby after 8 months. Egg whites are difficult to digest, hence can only be given to a baby only after 12 months of age. Also note that egg yolk can be quite drying to the throat, hence mixing it up with curd brings it to a better texture for the baby to enjoy.
Do use this article to plan your baby's meal. A weekly chart that incorporates all the above in a systematic manner, will make it easier for you to ensure that the best of nutrition reaches your little one. Again do note, all the above should only be started in slow and steady manner , only after the baby turns six months.
A well fed baby is happy baby. If you found this article to be useful, do share it with more parents. Should you chose to watch this content in a video format, here's the link. I invite your feedbacks, comments and queries. If you want to add your list of nutritious food options for a baby, feel free to do so in the comments section. Together we make parenting a wonderful journey. Enjoy simplified parenting.
♥♥ बच्चों के लिए वजन बढ़ाने वाले भोजन | इस आर्टिकल की जानकारी हिंदी में पाने के लिए नीचे दिए वीडियो को देखें ►
---
RELATED TOPICS
---