Cough Related
,
Neo-Natal Care
,
AGE GROUP
,
0 to 3 months
,
Cold Related
,
4 to 6 months
,
BABY PRODUCTS
,
Baby Massage Oils
,
6 to 9 months
,
10 to 12 months
,
1 Year+
,
HOME REMEDIES
,
NEWBORN CARE
Cold & Cough Home Remedy for 0+ Months Baby: Mustard Oil Infusion
Cough and cold are the dreaded foes for babies, especially in their first year. In the situation that a baby is suffering from these ailments, how do we ease out the discomfort? Indian families are usually very proactive in suggesting home remedies. The fact that babies under the age of two can't be given over the counter medicines, makes our pantry the best source for healing solutions. If you are a parent or caregiver, looking for a quick solution, here is an oil infusion that is a regular at my household to ward off seasonal cold ailments.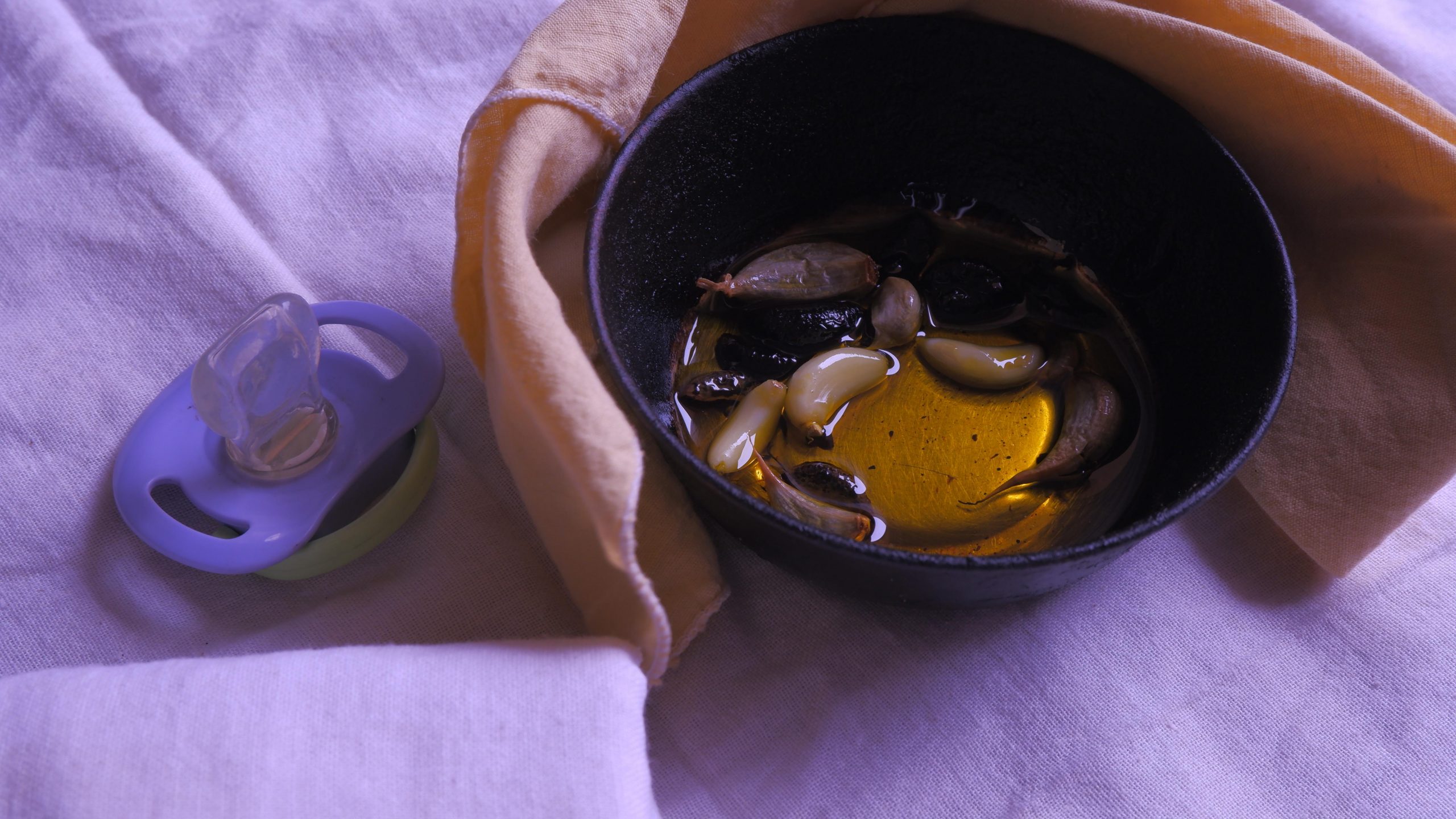 Babies catching seasonal cough and cold is a part and parcel of the process of growing up. Unlike adults, over-the-counter treatment doesn't quite help when it comes to your tiny peach. In fact doctors too, advice home remedies for the newborn. Catching cold is very common for babies under the age of one. Their immunity is still in its nascent stages and can't safeguard itself from catching some viruses and bacteria, especially in winters when they stay indoors for the most part of it, all wrapped up. When every other person in the house is suffering with seasonal cold, it becomes quite inevitable for the baby to catch it too.
Our country has been a land of home remedies for centuries now. Many rely on home-made solutions than over the counter drugs. Even if you do resort to baby medicines, always ensure that they are doctor prescribed. I reiterate, never get medicines merely on hearsay. With that being said, let me take you through a home remedy which I have used regularly with my son Kabir and I've hardly ever faced any issues, going about his routine with ease.
Mustard oil, or more commonly known as, "sarso ka tel", is a common hero of every Indian household. We will use this as a base oil to an application oil infusion. This blend of oil and everyday herbs, relieves the tiny tot of cough and cold related discomforts. This oil can be applied by both children and adults alike. It is recommended to apply it right before sleeping, for it to take effect. An overnight application is the best. For babies, the warmth that this oil would provide, will melt down any phlegm formation and pass it out of the body the next day.
How to make the oil infusion?
Ingredients
1 cup mustard oil
6-8 garlic pods peeled and chopped
1 tsp Fenugreek seeds (Methi Seeds)
1 tsp Carom seeds (Ajwain)
Sieve
A tadka pan or ladle
Method
Lightly heat the oil in a ladle, add the chopped or crushed garlic, heat for about 1-2 minutes on low to medium heat. The idea is to infuse the natural properties of garlic in the oil. After switching off the flame, immediately add the fenugreek and carom seeds. Fenugreek is optional, but is strongly recommended for its wondrous properties. Let that also sear in the hot oil until garlic turns brown or dark-brown, while ensuring that none of the ingredients turn black and burn completely.
Storage & application
Let the oil come down to room temperature, sieve and store in a clean and dry glass jar. A pro tip; you can always slightly heat the oil before every use so that it releases more warm  properties for healing.
Apply the oil preferably right before the baby goes to sleep. The warm oil and a good rest will ensure the benefits. Apply this oil on the chest, back, neck, under the feet and cover with a pair of socks. You can also apply this on hands, but ensure they remain covered so that the oil doesn't go into their mouth or burns their eye. No need to apply on forehead or top of the head as those areas of the body are already warm. Overheating of the body won't do any good. Do not turn on the fan or AC when you are applying this oil infusion. This can be applied all year long as long as you use it as a home remedy, it's important to visit the doctor when needed.
I would advise to make this oil every two weeks , in small batches. You can also make it in larger batches, only ensure proper storage in a cool dry place. No refrigeration is required. Additionally, apply this oil only when genuinely necessary during cold, cough or phlegm situation. It comforts the body to stay warm during the winter months too.
Winter months are challenging. While this oil infusion will ward of some of the winter woes, preparing for the cold months with your newborn, needs additional help. Worry not. We have an entire series dedicated just to winter care (links are below this article). I hope this has been helpful to you and we would love to hear your experiences too. Share your tried and tested home remedies with us. It's a privilege to learn from each other's domestic traditions.
Your comments, questions and feedback are always welcome. Feel free to share this article and spread the word amongst your friends and new parents. Do share our enthusiasm to build a parenting community. Introduce more parents to MomCom India. We reach out to you via our pages on Facebook, YouTube, Instagram, Twitter and this website. Keep warm. Stay healthy. And enjoy simplified parenting.
♥♥ सर्दी खासी का एक घरेलु उपचार सरसो के तेल से बना| इस आर्टिकल में इस बारे में बताया गया है | इस आर्टिकल की जानकारी हिंदी में पाने के लिए नीचे दिए वीडियो को देखें ►
Must-read articles on baby winter care:
Baby Winter Care (Part-1) | Skin Care for Newborn Baby (0-12 months)
Baby Winter Care (Part-2) | Immunity for Newborn Baby (0-12 months)
Baby Winter Care (Part-3) | Right Clothing for Newborn Baby (0-12 months)
---
RELATED TOPICS
---