Home Remedies For Newborn Baby Cough & Cold (0-6 months)
Seasonal changes and sudden fluctuations in ambient temperature can trigger cough and cold in your newborn baby. This article lists our tried and tested home remedies for such situations. If you are looking to ease your baby's discomfort due to cough and cold, this article will be of help.
► ये आर्टिकल इंग्लिश में है, हिंदी में जानकारी के लिए "Read More" पे क्लिक करें और आर्टिकल के अंत में दिए गए हिंदी वीडियो को देखें. वीडियो में ये जानकारी हिंदी में दी गयी है....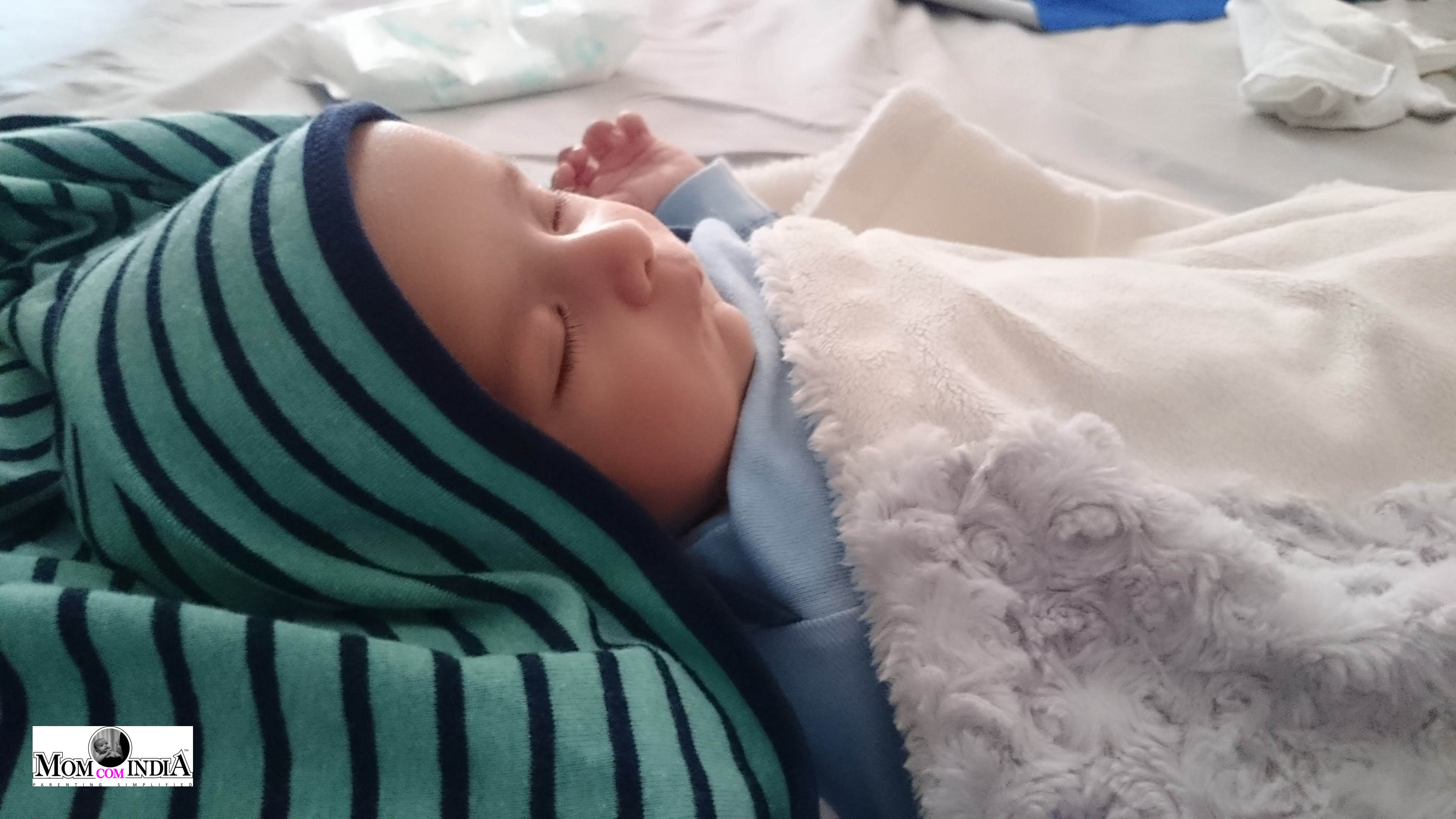 A parenting nightmare strikes when a baby suffers from cough or cold. The tiny one, unable to deal with its discomfort, cries and as parents our sole endeavor is to ease it. This is one topic that we had the most queries for, especially by parents who have a new born. While we adults try to prevent an onset of cold with numerous home remedies like sipping on warm water or inhaling steam, we are unsure about which remedies are safe for our little one. Antibiotics are usually the last resort and that too under the guidance of a pediatrician. My preferred choice for such situations is home remedies. If implemented when the first signs of cold are seen, we can avoid it from aggravating. Home remedies on a regular basis also acts as a preventive measure by building the baby's immune system. Here are my suggestions on home remedies for cough & cold.
1. Breastfeed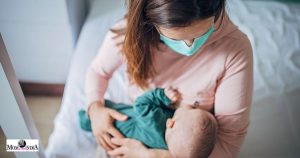 Breast milk is an elixir for a baby. Full of antibodies and easy to digest, it is better than any medication. Research shows that breastfed babies have a stronger immune system. It is the best preventive measure that a mother can employ. In case of a mild cold, being close to the mother's breast comforts the baby. The heat from skin-to-skin contact helps the suckling baby to ward of cough and cold. Do try to breast feed you baby as much as possible.
2. Mild Steam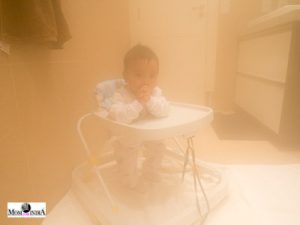 Like for adults, steam unblocks the nasal passages, open the pores and helps in dealing with congestion. For a baby, one can invest in a steamer. It's easily available at any medical store and is cost effective. Fill the steamer with tap water till the indicated mark and switch it on in the bathroom (after closing the ventilation). As the steam fills the bathroom, step in your baby. While you play or comfort your baby in the bathroom, the steam in the air will unclog the congestion.
Another option is to heat water in the geyser and turn on the hot shower. Do not stand underneath the hot shower. Instead, just stand inside the bathroom at a safe distance from the hot water. Like before, close the ventilation and let the steam be inhaled by the baby.
3. Humidifier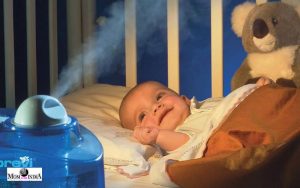 Dry air caused due to weather condition or air-conditioning in the room can also cause irritation and breathing difficulty for your baby. An easiest way to avoid this is to use a Humidifier which creates mist inside the room and helps maintain the moisture level of the air the baby breathes. There are humidifiers which are very good and operate through the night without any issues, investing in one is definitely recommended for a newborn baby.
4. Mustard oil Massage
This massage is not be confused with regular body massage. This is specifically to avoid any chest congestion for the baby.
To prepare for this one needs-
a) Mustard Oil- 1/4 Cup
b) Garlic Cloves- 3 or 4
c) Ajwain (Bishop's Weed)- 1/2 tbsp
Method of Preparation-
Heat up mustard oil in a bowl on the gas oven. When the mustard oil is hot enough for tempering, add the garlic cloves. Just as the garlic cloves start to brown, add the ajwain. The garlic and ajwain should just be tempered, like for food. It shouldn't blacken. Once it's tempered brown, remove from gas and leave it open to cool down. Check the temperature of the oil. Tepid or lukewarm oil, as per the comfort of the baby, should be gently applied on the baby's chest, back, palm, tip of fingers, toes and the soles of the feet. Immediately make the baby wear mittens, socks and clothes. Keep the baby warm for about 30 mins. Do not switch on the fan or AC in such conditions. It would be detrimental to the baby to be exposed to cool air after application of this remedy.
5. Hot cloth press
This is a quick way to relax any cold related discomfort in your child. Take a clean cloth or a big hanky. Iron it. Cool it for a while. Let the cloth come to a comfortable warm temperature for the baby, and gently caress the baby's chest and back with it. This remedy has additional benefits if applied after the mustard oil massage. The oil retains the resident heat of the cloth, easing any chance of a chest congestion.
6. Daily Massage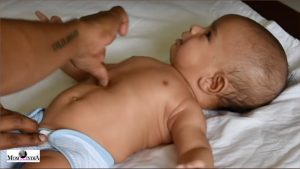 This is the remedy that has worked its magic in our case. In fact, this has been a daily ritual. Every day, without fail, we gave him an oil massage, followed by a bath in lukewarm water. This opens the pores and avoids any accumulation of mucus in a baby. Generally, cough or cold can happen once a while to any baby. However, in our case due to this ritual, Kabir has had rare occasions of cold related discomfort. Do note that in case your baby is suffering from fever, one should avoid a bath. Luke warm sponge is a advised.
8. Saline Drops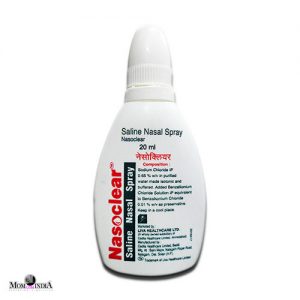 This is a preventive measure as well as an ease way to ease nasal congestion. Even if your child isn't suffering from cough and cold, 2-3 drops of saline water, occasionally in its nose, is a healthy ritual. I preferred to use Nasoclear- a salt and water solution that comes with a dropper. This prevents the formation of mucus.
9. Sponge bath
If your baby is suffering from fever, only lukewarm sponge bath is advised. Adding half a lemon into the water, opens up the pores and refreshes the baby.
10. Side sleeping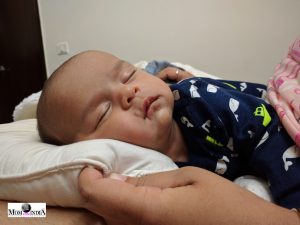 While suffering from cough and cold, it is uncomfortable for a baby to lay down flat on its back. The mucus in such cases restricts easy breathing and the child is unable to sleep. Hence either make the baby lie sideways or raise the angle of the baby's head to a 30degree angle (be it with the help of a Dupatta or a small pillow). This will keep the baby's nostrils open. A well slept baby will recover sooner
There are various other home remedies that people might recommend. I have however mentioned only the one's that I have tried and tested for my baby. One of the popular ones in to let the baby lick a drop of honey. I would advise against it. There is plenty of research that finds it detrimental for a baby. However, should you want to add a pinch of turmeric to a baby's soup, it might help in building immunity. Please be prudent and aware about any home remedy before you chose to use it for your baby. That said, any cough or cold prolonging more than 5-7 days, do take the advice of your medical practitioner.
Your baby is important to me. As a parent I understand your feelings in such a situation. Please feel free to reach out to me with any feedback, comment or query. I wish health and happiness to your bundle of joy. Do share this article with other parents. Should you want to watch this content in a video format, the link in below. Enjoy simplified parenting.
♥♥ इस आर्टिकल में कुछ घरेलू नुस्खे बताये गए है जिनके इस्तेमाल से बच्चों को सर्दी और खांसी में रहत दिया जा सकते है | ये जानकारी हिंदी में प्राप्त करने के लिए निचे दिए गए वीडियो को देखें ►
---
RELATED TOPICS
---