Diaper Rash in Baby: Prevention & Treatment (Easy Home Remedies)
The little boils or bruised skin on the baby's bum, causes much discomfort to the lil one. It is not just a normal rash, but an indication to re think the diapering technique. If you are a parent looking to prevent or treat diaper rash, this article is for you.
► ये आर्टिकल इंग्लिश में है, हिंदी में जानकारी के लिए "Read More" पे क्लिक करें और आर्टिकल के अंत में दिए गए हिंदी वीडियो को देखें. वीडियो में ये जानकारी हिंदी में दी गयी है....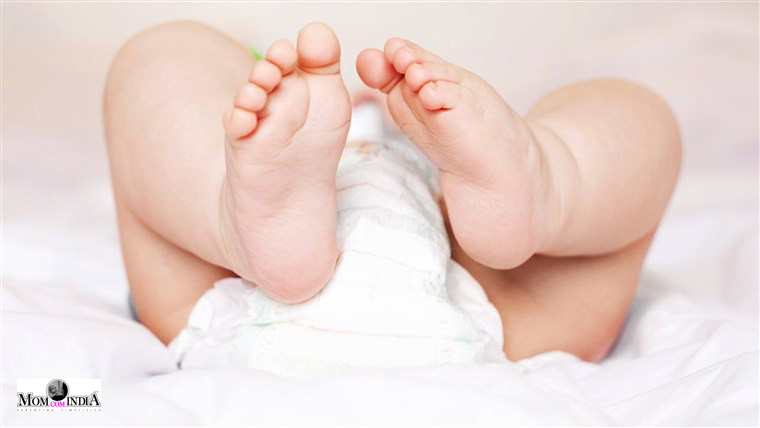 A fairly common problem, it might start with a tiny pimple like rash or just plain redness for the baby, however diaper rash is not to be taken lightly. The discomfort in the baby makes most parents nervous. I received a lot of queries on this subject from the readers of my blogs. Being a mother, I understand how it can turn a happy baby into an irritable one. But it doesn't have to be this way. Preventive measures and timely treatment can make diaper rash disappear.
Let's first understand, what causes a diaper rash. Every baby pees and poops a lot. Of course they are not toilet trained, hence for convenience a baby is often in diapers. The urine and the stool, comes in contact with the skin. If a baby's diaper is not changed often, the germs in it, cause infections, resulting in diaper rash. Also poor quality diapers have harsh chemical linings, this too can start to make the skin sensitive, leading to a diaper rash. A baby suffering from loose motions is more likely to suffer from diaper rash. The above cases are mostly about disposable diapers, however cloth diapers that aren't washed and disinfected properly, can lead to diaper rashes as well. Hence as preventive measures, whether it be disposable or cloth diapers, we need to follow the following steps-
Step1: Change the baby diaper, every 2-3 hrs or whenever you feel the diaper is heavy. It's very difficult to gauge how much urine a diaper has absorbed, hence its best to be safe. For my son, Kabir, we used a diaper that had a wetness indicator. The diaper has a line, that turned blue, indicating that it's time to change the diaper. This has been a huge saviour for us.
Step2: Also it's important to note that some babies pee more frequently at night so we made it a point to change our son's diaper at least twice during night. We did this during his feeds. This helped him to get a restful sleep, as he didn't wake up crying due to a wet diaper.
Step3: Be aware of the quality of the diaper being used. If your baby is frequently suffering from diaper rashes, try changing the brand of the diaper.
Step4: For cloth diapers, use a hot wash cycle and periodically use the cloth diaper disinfectants to maintain a hygienic use.
Step5: In case of a loose motions, change the diaper immediately after every passing of the motion.
Step6: Proper cleaning and airing of baby bottom is must. Yes, wipes are convenient. We too used them when we travelled outside the home. However at home, it is best to clean the baby bottom with water. You may wipe it with some cotton dipped in water. In cold months, use lukewarm water for the same.
Step7: After the wash, pat dry the area preferably with a Bamboo Washcloth and let it be for a while. Leaving the baby without a diaper for some time, lets the area breathe. During winter months, just cover the baby's legs with a blanket or a muslin swaddle, and let the baby bottom dry naturally. Only after the baby bottom is dry, make the baby wear the next diaper.
Step8: Use a good diaper rash cream every time you change your baby's diaper. This creates a thin protective layer between the baby skin and the diaper, protecting the skin from chemicals and bacteria which creates rash.
Step9: Leave the baby without a diaper, at-least for a few hours a day. You will notice that your baby loves it. A baby often feels very restricted with a diaper. This will be hard to follow in winter months, but is a perfect solution for summers.
In spite of all the preventive measures, should your child still suffer from a diaper rash, here's is what to do-
Medical Help: Deal with the rash as soon as it appears. Do not delay. It can worsen very quickly. Most rashes can be cured at home however some may require medical attention, don't hesitate to visit the doctor if you feel a rash requires the attention of a medical practitioner.
Diaper Rash Cream: Keep a good diaper rash cream at hand. A good rash cream builds a protective layer between the baby's skin and germs. It immediately soothes the skin sensitivity. We used Aquaphor Rash cream in case we saw a diaper rash. Often we applied it as a preventive measure as well. Butt Paste Rash Cream is another of our favourites. This is a thick cream and is more suitable for winters. Occasionally you might choose to use coconut oil to soothe the baby's private area.
These solutions have been tried and tested at our home. From one parent to another, I always wish for a happy upbringing. If you have used any home remedies, with success, I would love to hear about them. Your comments, questions and feedback, are always welcome. Do feel free to share this article with more parents. Should you want to watch this content in a video format, here's the link. Enjoy simplified parenting.
♥♥ इस आर्टिकल में बच्चों में होने वाले डायपर रैश के बारे में बताया गया है | इस आर्टिकल की जानकारी हिंदी में पाने के लिए नीचे दिए वीडियो को देखें ►
---
RELATED TOPICS
---