Is It Safe To Apply Kajal On Baby?
Applying Kajal in baby's eyes is an age old tradition which is said to ward off evil eye. In a country like India where following tradition is a must, it is sometimes difficult to get past the blurry line. Some say it makes the eyes appear big and beautiful while for some it's not a practical approach and has its own disadvantages. Does this hold any truth or is it far from it? Let's decode this.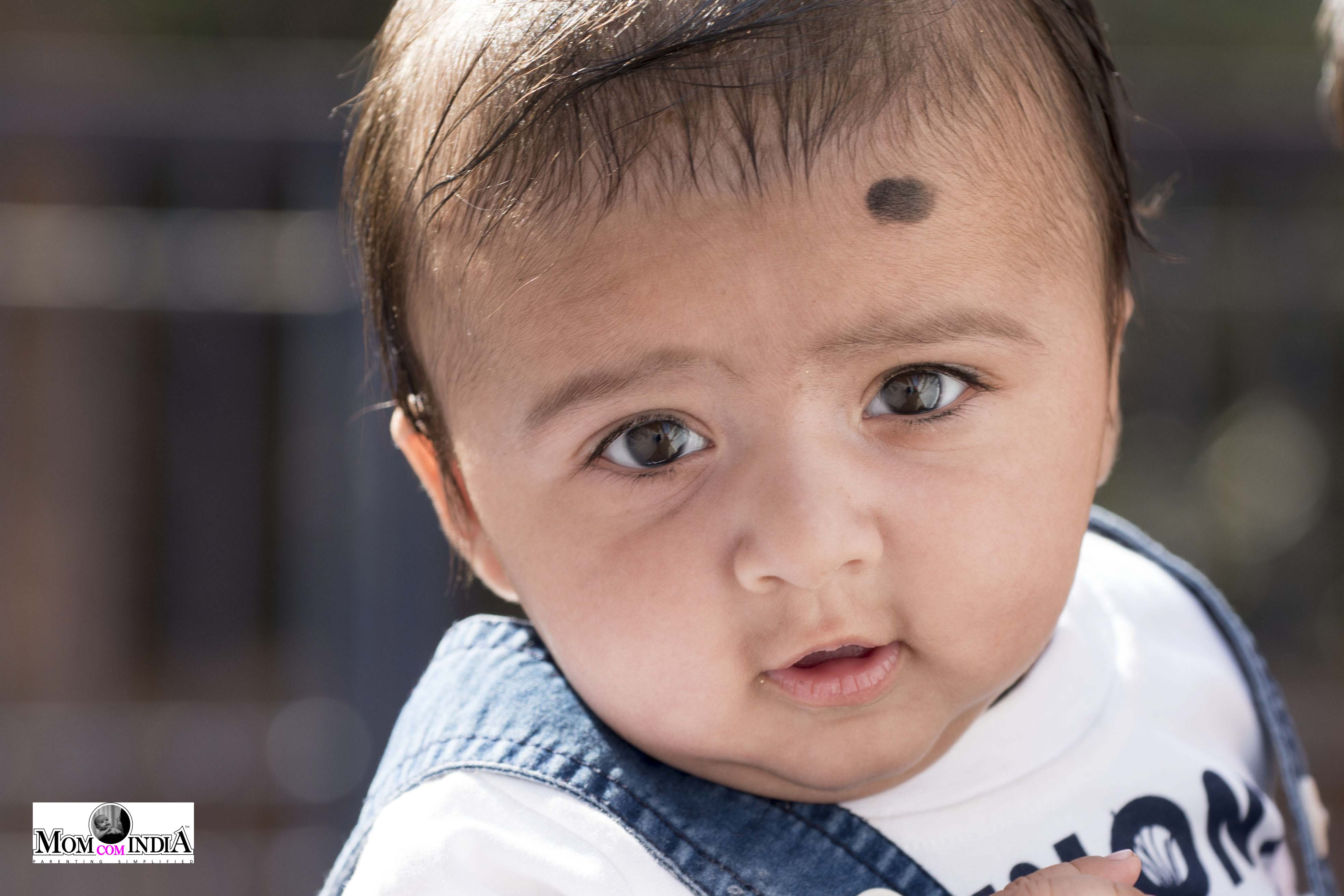 Traditions in India come with many layers to it. They vary across towns and cities. Every version is unique. What to follow or what not to follow, is sometimes a personal choice and sometimes in respect of the culture. Many succumb to it, keeping in mind the rich heritage and family ancestry.
But the big question here is, should a new born baby be subjected to it? Should its delicate eyes be exposed to this "beauty product", so to speak? Some parents choose to pick a middle path, just a dot behind the earlobes or under the feet, and so on and so forth. With every region across the country, comes the diverse beliefs.
If the scientific approach is to be believed, doctors seem to differ in their opinion. Let me take you through it.
Do you believe in evil eyes?
One concept that we all have heard of, and many of us believe in is "nazar lagna" or an evil eye. Many people apply kajal on babies to protect them from the evil eye. This to a great extent seems to be a superstition that many still believe in. Since it's purely based on an age old belief system, you must give it a second thought before you start applying kajal on your child, either as something that you have seen others do or on the behest of your older family members. If you don't believe in superstition then is there really any need for you to apply kajal. Babies do fall ill occasionally especially in the first year of birth, irrespective of them being applied kajal or not.
Can cause irritation, allergies & watery eyes
We adults are always wary of the cosmetic products we use on ourselves. We hop from one brand to another in a faint hope of finding that perfect Kajal which should not only suit us, but also be cruelty free. But when it comes to the little babies, we have to understand that it's all harsh chemicals at the end of the day that makes it what it is. As a result, the tender eyes of a baby can't take so much. They tend to have watery eyes, redness, allergies or infections. Your little one can't communicate this to you and we only check for hunger, sleep or a soiled diaper and overlook what is troubling him or her. Checking for problems due to the application of Kajal becomes an oversight. Therefore, a delayed action results in major infections, which by the time we realise, has done some considerable damage to your little one's tender eyes.
Ways to apply Kajal
Most common ways of application of Kajal is either using a fingertip or a sleek object. Most of the times, we cannot determine an individual's hygiene levels or the cleanliness and sharpness of the object used. Such options can easily hurt the gentle tissues of eyes or cause an infection, at the very least. Any amount of cleaning cannot make it a hundred percent sanitised and safe. A baby's eyes are super delicate, so the fear of hurting or an infection is always looming over.
Difficulty in taking it off
In order to remove the Kajal from the eyes, there is only so much we can do. The most practised ways of removing it is either washing it with water or using cotton or a piece of cloth. Rubbing the eye to remove it can cause redness, irritation or minor cuts in and around the eye, as the skin around it is super gentle for both babies and adults alike. Washing it off with water can pose some irritant too. In case of any residue left inside the eye, it can travel down to the nose, block some nerves and eventually causing major troublesome infections. Due to this reason too, doctors do not recommend applying Kajal in the baby's eyes.
High lead content in commercially produced Kajal
For a human body, the commercially produced Kajal can pose quite a degree of dangers as it is manufactured with high levels of Lead in it. Prolonged usage and application of Lead on any body part can be very harmful, especially when it comes to babies, the effects can be severe. Some serious medical issues include ANEMA, stunted brain development and lower IQ, to name a few.
Parallel to commercially produced Kajal containing Lead, many people claim to have made Kajal at home. But, the main concern here is the authenticity of the ingredients used in making it, whether its organic or not, is uncertain. Hence, doctors always advise to refrain from such products whose constitution is doubtful, especially when the baby's skin is so sensitive. In fact, all parents go the extra mile to ascertain the authenticity and quality of the products that they purchase and use as a part of the baby's routine. Not all baby products would suit every baby. Some may suit them, while some can cause major reactions. So putting something as precarious as a Kajal into the gentle eye is not in accordance to any doctor's recommendation, but just to satisfy the old customs and rituals.
In my personal experience, even I was told to apply Kajal in Kabir's eyes,  I stuck to a dot behind his earlobes, under his feet or on the forehead. Many a times I was told to do so to ward off evil but on the contrary doctors never give their nod to such customs.
It is understandable, that going against the humdrum tradition can be quite a task, but parents can always work a way around it, so as to respect the tradition whilst not harming the child. It is very common for a child to fall sick due to weather conditions, teething and other associated milestones of their growth. It wouldn't be wise to think of it as a result of an evil eye, instead you can take in your stride, as the baby completely depends on his parents. It's the parents who have to take an informed decision and take a justified route.
We would love to hear what you as a parent went through, to break stereotypical notions and encourage other parents reading this. Your comments, questions and feedback are always welcome and feel free to share this article and spread the word amongst your friends and novice parents. Do share our enthusiasm to build a parenting community. Introduce more parents to MomcomIndia. We reach out to you via our pages on Facebook, YouTube, Instagram, Twitter and this website.
Enjoy simplified parenting.
♥♥ क्या बच्चों को काजल लगाना सही है | इस आर्टिकल में इस बारे में बताया गया है | इस आर्टिकल की जानकारी हिंदी में पाने के लिए नीचे दिए वीडियो को देखें ►
Must-read article for newborn babies:
What to do if your baby does not sleep properly (0-3 months)
Baby Diapers: Is it Safe to Keep a Baby in Diapers all Day?
How To Develop A Skincare Routine For Your Baby (0-12 Months)
---
RELATED TOPICS
---