Meal Plan for a 6 to 7 Month Old Baby | Complete Guide To Baby First Foods
Starting solids for a six month old baby is an adventure. Done right, both baby and parent enjoy the experience. When to start with solids? What would be the baby's first food? How many times to feed? And more. This article takes you through an in depth understanding of baby's needs and hurdles while being introduced to solids.
► ये आर्टिकल इंग्लिश में है, हिंदी में जानकारी के लिए "Read More" पे क्लिक करें और आर्टिकल के अंत में दिए गए हिंदी वीडियो को देखें. वीडियो में ये जानकारी हिंदी में दी गयी है....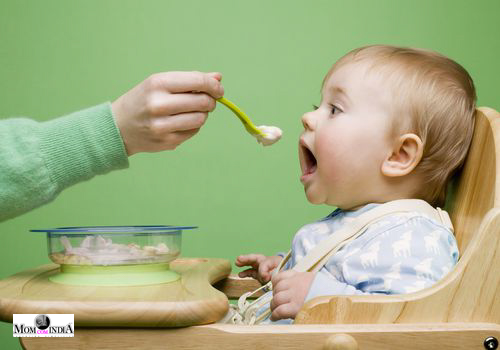 An introduction to a whole new world of taste. From breast milk, formula to something new. Introduction to solid food is an occasion. As new parents, we wonder about the right way to start this journey. I too have been in the same bandwagon. Remembering the days when I researched and planned the meal options for my little Kabir, brings a smile to my face. That's the joy that I want to share with you. Feeding a baby is a vast subject to discuss. In order to address it in detail, I chose to focus on the first step – food for the 6th and the 7th month also called first foods.
When to start solids?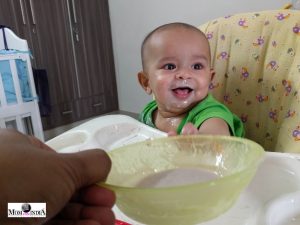 It is advised that a baby starts with solids only after 6 months. WHO and your paediatrician would strongly recommend exclusive breast feed for a baby younger than 6 months. However, sometimes a baby starts showing signs of wanting more than just milk at 5 or 5.5 months. I have written a separate article on signs that tell you if your baby is ready for solids or not, you can find that article here.
That said, patience is the key word in this stage. Even a six and a half months old baby might take time to adapt to solids. Start slow and notice your baby's response to it.
How many times in a day to feed solids to a baby?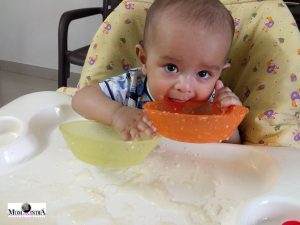 As the saying goes, "Food before one is just for Fun." That is literally the case. At 6-7 months, it is just a taste fest. The nutritional needs of the baby is still met with breast milk or formula. Solids at this stage is essentially a treat for the senses and a signal to the baby's tummy to adapt slowly. For a six month old, 1 serving of solids in a day is more than enough. For a seven month old, 1 meal and one snack per day would be a maximum. The serving suggestion for a meal in both cases is 1- 2 tbsps. And a snack is just a taste tester. Do not worry if your baby doesn't consume the above serving. Spitting out food is a natural reflex action for a baby. Let the baby take its time. Eventually, your baby will express it's want for solids. Force feeding or stressing about nutrition at this stage is unnecessary.
What is the best time in a day to feed solids?
For a 6 month old, the one meal, ideally should be at breakfast. Day feeding is a safer option, as you can monitor the baby throughout the day for any reactions or allergy. Sometimes a food may make the child bloated with gas. This is difficult to deal with at night. A breakfast of solids also gives a baby adequate energy to enjoy its day.
A seven month old can have one solid meal at breakfast and one snack at mid-day (around 12- 12 :30pm). Do note that adequate gap in timings should be there between these two servings, for a baby to build its appetite. A planned time gap also lets the baby digest its previous meal, before being served a snack. This lessens the chance of any reaction or gas formation in its tummy.
How many times does one feed the same type of food?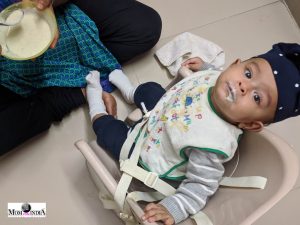 Ideally, it takes 3 days for a baby to adapt to a new food. Paediatricians recommend that one should feed a particular type of food for three days in a row, while observing the child for any allergic reactions. For example- if you have introduced apple purée to your baby, feed apple purée to it for three breakfasts. However if you don't have a family history of allergic reaction to that food group, chances of your baby having an allergy to it is quite minimal. In such a case you might choose to test the food for 2 days instead of 3.
Milk products and non-vegetarian food groups are difficult to digest in the initial stage. Eggs, cow's milk, cheese, butter etc can be introduced much later- preferably after 1 year of age. Combining one or more food groups is advised only after you have checked the baby for any reaction by introducing each food group individually. Combinations are not advised for a six month old.
What should be the texture of the solid food?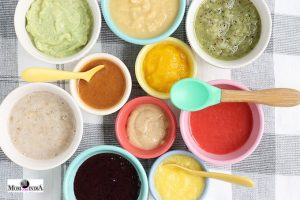 The terms "solid" is often misleading. The meal serving is essentially a purée. The more watery the consistency, the better. The child at this stage needs its meals to be closer in texture to a liquid. Mash and blend well. Lumps in food can choke a baby. I used a Morphy Richards hand blender to ensure the consistency in texture. If in doubt, pour the mash through a sieve. Only the puree that pass through ,should be given.
How does one know if there are any reactions?
Reaction or allergy to any food is a cause of concern. It can surface as redness, rashes, constipation, loose motions, bloating, gas and in severe cases might be accompanied with fever. Do consult your medical practitioner in case you notice any of the above. It is necessary to keep a watch on the baby when you introduce a new food.
How to store baby food?
Babies hardly consume a tiny bit of the food that is prepared and we advise preparing a fresh puree for every meal. However if you are crunched on time there is a solution. After preparing the babies meal, divide it into portions. The portion that is not served can be stored in a glass jar with an airtight lid. This jar has to refrigerated in the back of the fridge, where it is the coldest. Before serving this food, one need to bring it back to room temperature. For the same, take the jar out of the fridge. Let it thaw for a few minutes. Reheating the food on gas stove isn't advised. Though defrosting in a microwave is an option, uneven heating of food (some parts being cold and rest being too hot) in a microwave can hurt a baby. Food stored in the above way can be used up to 3 days. However, points to note are- do not store food that has already been served to the baby and ensure hygienic storage.
What to feed a baby?
If you introduce your baby to a bland food, chances of it being rejected are far higher. Instead of enjoying it, a child will be irritated and resist solids. I get numerous queries from parents whose kids don't eat their food properly, and often it can be linked to the incorrect first foods they were given. The best food group to start with is fruits. Fruits are high on fibre, with less chances of allergy and are tasty.
To make it easier for you, here's a list of foods that you can give to your baby, these are to be introduced in the same order they appear following the 2-3 day rule (every food gets 2-3 days before you move on to the next one)
Fruits- Banana, Apple, Pear, Avocado, Apricot, Prunes.
Vegetables- Carrot, Potato, Sweet potato, Pumpkin, Peas
Legumes- Moong Dal water or blended moong dal.
Oats
Ragi
Rice- preferably brown rice.
Points to note for the above
Hard fruits and vegetables need to be boiled/poached and blended well before serving.
Start with fruits and vegetables. Gently graduate to other items on the list.
Rice, Dal and legumes need to be soaked for a minimum of 4 hrs before being cooked. Traditionally overnight soaking is the best. This makes it easier to digest.
Each of the above 15 items, need to be introduced individually. Each food being served for 2-3 days in row. Do watch the baby for any reactions.
Combinations of the above foods can be done only after the individual food testing.
I have walked the path that I suggest above. My personal experiences have led me to build this comprehensive guide for you. This content is also available in a video format below. I would appreciate feedbacks and comments. Don't forget to connect with me on Instagram, Facebook, Twitter & YouTube. Share this article and your insights on it, to assist other parents. Enjoy simplified parenting.
♥♥इस आर्टिकल में बच्चो के पहले खाने से जुड़ी बातें बताई गई है | इस आर्टिकल की जानकारी हिंदी में पाने के लिए नीचे दिए वीडियो को देखें ►
---
RELATED TOPICS
---