Cough Related
,
Neo-Natal Care
,
AGE GROUP
,
0 to 3 months
,
Cold Related
,
4 to 6 months
,
Gas & Colic
,
6 to 9 months
,
Constipation
,
10 to 12 months
,
Loose Motions
,
Baby Poop
,
HOME REMEDIES
,
Skin Related
,
Consult a Doctor
,
Baby Gas or Colic
,
NEWBORN CARE
,
Consult a Doctor
When To Take Your Baby To The Doctor | Signs & SOS Protocols For 0-12 Month Baby
An infant needs constant care. The parent or caregiver is always on their toes, trying to raise a happy and healthy baby. With all the safety measures and precautions, that one may enforce, at times ailments find a way to affect the baby. This raises doubts in a parent on whether it's necessary to pay the doctor a visit or to treat the baby at home. If you are a parent, wondering the same, read on. This article will help you to understand an emergency situation while showing you how to develop an SOS protocol at home.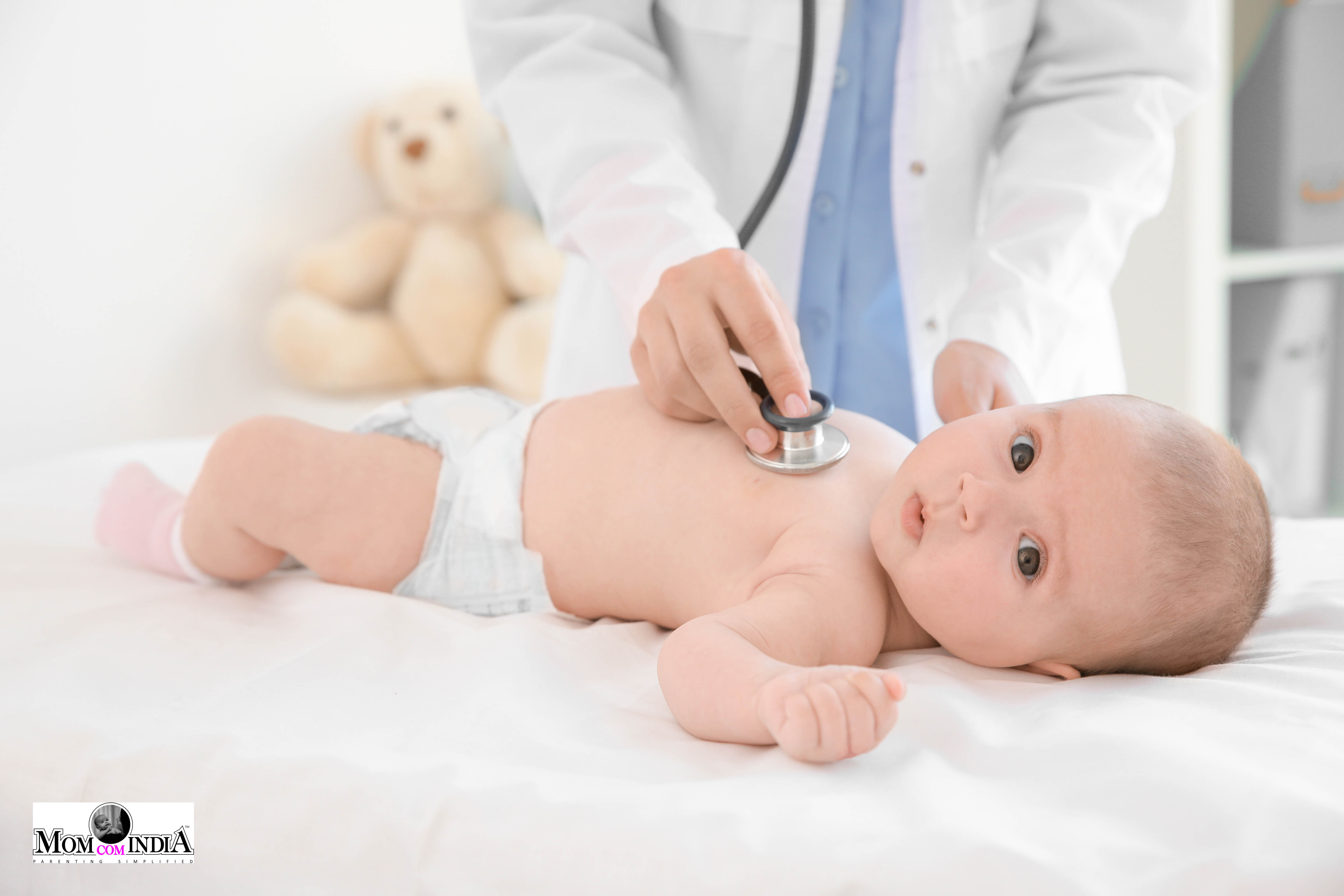 I am an ardent follower of home remedies. However at no juncture does it supersede my doctor's advice. I took my time to choose a paediatrician and a gynaecologist, to guide me for my son and for my own recovery. It's important that you are comfortable with your doctor. Set up an emergency protocol at home. Write the numbers of your physicians, specialists, the closest hospital emergency room, and stick it at a prominent location inside your home. Similarly saving the above numbers on your phone as emergency numbers, will expedite your reaction time. When in doubt, seek a doctor's advice without second guessing about the baby's health.
While I list 10 major signs to rush your baby to the doctor, this list is by no means exhaustive. The indicators of an ailment, might differ from baby to baby. Observe your baby and act in accordance.
1. Baby has Fever
Your baby has fever if his or her body temperature is above 100°F. Fever is usually an indicator of a disease or infection. As the immunity of the baby is built up gradually, a baby is most susceptible to attacks on its system. For babies lesser than 3 months of age, even a mild fever needs to be taken seriously. Speak to a doctor immediately, if your newborn has fever.
For babies above 3 months, fever above 100 is a cause for concern. Below 100 can be just a raise of body temperature due to baby's movements and activities. However, if it lasts for more than a day, seek the guidance of your paediatrician.
2. Dry Diaper
If the baby is not peeing enough, this can be a sign of dehydration or infection. Keep a check on the baby's diaper. A baby peeing less than 6 times a day can be a cause of concern, & needs to be taken to the doctor. A well hydrated baby will pee more often. The more the baby pees the better. Also, if you find the baby's lips to be dry or the urine to be dark yellow in colour or that there seems to be some trouble while the baby is passing urine, do consult the doctor.
3. Trouble in Breathing
As a parent, we are aware of even the slight changes in baby's behaviour. At any point should you notice unusual breathing patterns, do not delay a visit to a doctor. Sometimes it can be just a common cold, yet for an infant that too is to be taken seriously. Babies can't communicate their discomfort. Whether it's a minor mucus situation or a respiratory infection, one can't be sure without a doctor assessing it.
4. Unusual crying or Low activity
If your child is crying incessantly, check whether its hungry or whether the diaper needs a change or for gas or whether it is sleepy. Sometimes babies also cry if they are bored. Try a distraction. If all fail, with the baby still wailing, it could be due to a physical discomfort that it is unable to communicate. An assessment by the doctor can point towards the underlying cause.
Similarly, if your baby is less active than usual, isn't smiling as much, is staring listlessly and is lethargic, it is advised to visit the doctor at once. The period of time you keep your baby under observation will depend on the level of inactiveness.
5. Baby poop
Baby poop and pee are major indicators of baby's health. Keeping a keen eye to both the body functions, will help you spot a warning signal early. While baby poop in its frequency and consistency, changes all the time, black, white or blood spots in poop need immediate attention. A visit to the emergency room is needed at once. Yellow, brown, green or a mix of such poops, is natural. Also do not panic if the baby's poop frequency changes. For an infant, whether its 1 poop in 7 days, or 7 poops in 1 day, it is normal. Also changes in poop consistency happens when shifting to formula or solids. Yet, if it bothers you speak to your doctor.
Loose motions can dehydrate the baby. While a few times of loose stool might just be a natural way to rid itself of a minor digestive infection, if the loose motion continues for a day, it's time to visit the doctor. In the case of constipation too, if the baby is crying a lot while passing motion or the tip of the poop is hard , then it can be due to dehydration. This too needs a doctor's intervention. It can be something as minor as the baby's formula not suiting its gut.
6. Weight check
A baby's weight in the first year should always be on a rise, doubling from birth weight within 6 months & touching around 10kgs by the end of the year. However, a constant or a declining weight after the first 3 months is a cause for concern. There can be minor fluctuations, as long as every month there is a gain in weight. If not, consult your doctor. Lethargy, refusal of milk and decline of feed are indicators of an ailment.
7. Getting hurt
Though we keep a tab of a baby's movement, it is hard to be alert all the time. By any chance if your baby has rolled off the bed or had hit its head, its best to check with a doctor. Since a baby's body is quite fragile, a doctor's assessment can ascertain that the fall or hurt hasn't caused any severe or long term issues.
8. Body Rashes
While diaper rashes can be avoided and treated easily, rashes or prolonged redness anywhere on the baby's body need to be examined by the doctor. It can be a minor irritation caused by a product or your baby might have a skin infection. A check-up can clarify it all. Read this article to know how to treat diaper rashes at home.
9. Baby has Jaundice
Jaundice is very common among infants. Usually after delivery doctors check and treat jaundice, before discharging the mother and child. However, some babies show symptoms of jaundice after they are sent home. In case you see a yellow tone on your baby's skin or if the eyes have tinge of yellow, take the baby to the doctor immediately. Usually after 2-3 days of care in the hospital, it's resolved.
A baby is wholly dependent on parents and caregivers. As it grows, breast feeding provides the baby with all the nutrients to build a strong immune system. While taking all precautions, at times there are unwanted situations that may arise. Keep calm and follow the emergency protocols that you pre discuss and set up in your home. Time is of essence in these cases. Do not delay if your intuition indicates you to get a qualified opinion of the doctor.
Do share this article with as many parents as you can. It can help them to understand when not to take matters in their own hand, rather seek their paediatricians advice. Sharing your emergency protocol and experience on MomComIndia, will enrich the learning of another fellow parent. Do write to us with your feedback, comments, queries and suggestions. This content is also available in a video format below. Enjoy simplified parenting!
♥♥ अपने बच्चे को कब डॉक्टर पे ले जाना चाइये, इस आर्टिकल में इस बारे में बताया गया है | इस आर्टिकल की जानकारी हिंदी में पाने के लिए नीचे दिए वीडियो को देखें ►
---
RELATED TOPICS
---